Akande-Sadipe Celebrates Alaafin at 82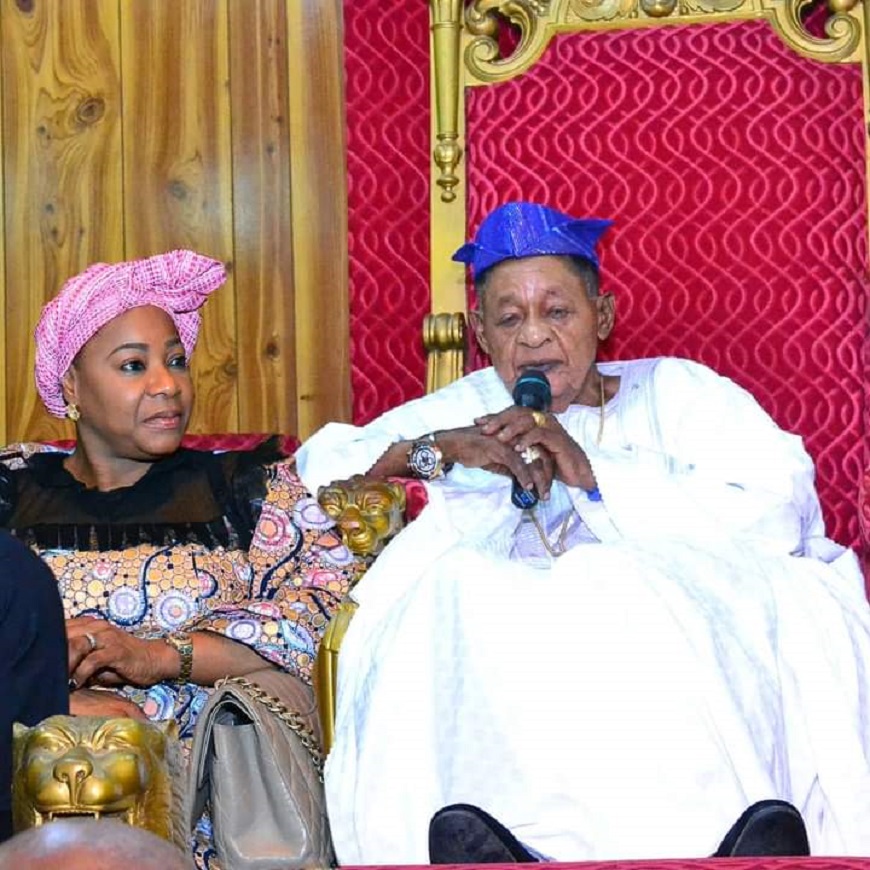 By Dipo Olowookere
A paramount traditional ruler in Yoruba land, Oba Lamidi Olayiwola, the Alaafin of Oyo, has been congratulated by the Chairman, House of Representatives Committee on Diaspora, Mrs Tolu Akande-Sadipe, on his 82nd birthday.
The lawmaker, in a statement made available to newsmen on Thursday, described the monarch as a seasoned administrator, who has used his knowledge and experience to bring about a revolution in Oyo.
Mrs Akande-Sadipe, who represents the people of Oluyole federal constituency at the National Assembly, disclosed that despite being an Ibadan woman, she is related to the Oyo ruling empire through her great grand-father.
She stated in the statement that as a daughter in the royal lineage, she admires his impeccable records and true spirit of royalty.
"On this auspicious day, the people of Oluyole and I, granddaughter of Sijuwoolade, Olobaloro felicitates with the Alaafin of Oyo Empire, His Imperial Majesty, Oba (Dr) Lamidi Olayiwola Adeyemi III, Iku Baba Yeye and all sons and daughters of Oyo on the occasion of his 82nd birthday," she said.
"Kabiyesi, your strength is not in doubt, I saw you boxing a few days ago. We wish you grace and strength as you begin another glorious year today.
"A true lover of boxing, a teacher of Yoruba traditional history, your wisdom, knowledge and contribution to Yoruba tradition stands you out. Long Live Your Majesty," she added.
Mrs Akande-Sadipe said Oba Adeyemi has displayed a high degree of dedication while contributing his quota to the growth and development of the state.
Spotify Unveils Ad Studio in Nigeria, Jamaica, Others
By Modupe Gbadeyanka
A self-serve ad platform of Spotify known as Ad Studio has been launched in Nigeria, Jamaica, Nigeria, Ghana, Kenya, Tanzania and Uganda.
The Ad Studio is a tool on the Spotify platform that allows artists, brands and businesses to easily run audio and video ads. Advertisers can create a campaign within minutes, and the platform provides flexibility and control to set up and manage campaigns in real time.
A statement from the organisation disclosed that the innovative advertising medium was designed to entertainers build a custom audio ad for free right in Ad Studio, in as little as 24 hours.
"Reaching audiences with Spotify Ad Studio is efficient and easy," said Christopher Li, Director of Digital Planning & Products APAC at Live Nation and Spotify Ad Studio user. "You can decide to target listeners by genre preferences, interests, and context, etc. It only takes us a few minutes to create a campaign, and the free voiceover service saves a lot of effort, too."
Before now, Spotify had launched Ad Studio in other markets, including America and Europe, and looks forward to the impact this will have in emerging markets like Sub-Saharan Africa, where audio streaming is on the rise.
In order to advertise with this tool, advertisers need to spend a minimum of N100,000. Ad Studio provides advertisers with free audio creation tools including background music mixing, voiceover talent, audience targeting and real-time reporting.
As the world leader in audio streaming, Spotify brings music and podcasts to nearly 365 million users in 184 markets, across hundreds of devices. This is where young people are — and where young people go, marketers follow. 71% of Spotify Free listeners are under 35 and the median age of podcast listeners is 27.
In Nigeria alone, over 100 million citizens are active internet users. Of this number, 57.9 per cent use music apps — up from 54 per cent last year.
The median age in this market is 18, meaning that the majority of smartphone users are Gen-Z. Similar to Ghana and Kenya, the Gen-Z market is increasing, and many young people are streaming audio.
The launch of Ad Studio is another way Spotify is leading the way in audio innovation globally, and providing advertisers with the opportunity to grow their audiences in these emerging markets.
Take Baba Suwe's Death as Act of God—Sanwo-Olu
By Aduragbemi Omiyale
Governor Babajide Sanwo-Olu of Lagos State has described the death of popular Nigerian comic actor, Mr Babatunde Omidina, otherwise known as Baba Suwe, as painful.
In a statement issued on Tuesday by his Chief Press Secretary (CPS), Mr Gboyega Akosile, the Governor also said the demise of the movie star was a great loss to his family, Nollywood and the country as a whole, especially his fans and lovers.
He urged the deceased family, friends, associates and the movie practitioners to take Baba Suwe's death in good faith and as an act of God.
In his heartfelt condolences to the Omidina family and the Nigerian entertainment industry on the passage of the renowned actor, the Governor said, "The late Babatunde Omidina, popularly known as Baba Suwe was a bundle of talent, who used his God-given gift to advance the course of mankind."
"As an actor, he put smiles on the faces of many people through his comic roles in different movies and television drama series," he added.
"No doubt the death of a loved one is usually painful because it is irreparable but we must always take solace in God, especially if the deceased had lived a fulfilled life, just like the late Babatunde Omidina, who was a celebrated actor during his lifetime.
"Baba Suwe's death had left a vacuum that would take some time to be filled in the entertainment industry. I pray that God will grant the late Babatunde Omidina eternal rest and grant the family, colleagues and associates the fortitude to bear the irreparable loss," Mr Sanwo-Olu further said.
Baba Suwe died on Monday at age 63. He nursed diabetes before his demise.
Veteran Comic Yoruba Actor Baba Suwe Dies
By Dipo Olowookere
A veteran comic actor in the Yoruba movie industry, Babatunde Omidina, otherwise known as Baba Suwe, is dead.
A close associate of the popular role-interpreter, Modupe Johnson, another veteran in the industry fondly known as Fali Werepe, confirmed the death of her colleague on Monday.
She posted on her social media platform that Baba Suwe, who married one of her close friends, Monsurat Omidina, popularly known as Omoladun Kenkelewu, breathed his last.
In 2009, Baba Suwe lost his actress wife, Omoladun, to the cold hands of death and two years later, he was apprehended by officials of the National Drug Law Enforcement Agency (NDLEA) at the Murtala Mohammed Airport, Lagos on the suspicion that he ingested cocaine wraps.
He later got a judgement in court against the agency, which was ordered to pay him N25 million as compensation.
A few years ago, the comic actor was down with sickness and funds were raised for his treatment abroad. Since then, he has not been too prominent on the television screen.
Before his demise, Baba Suwe acted and produced several movies.
Latest News on Business Post