Lagos Opens CodeLagos Centre at Isolo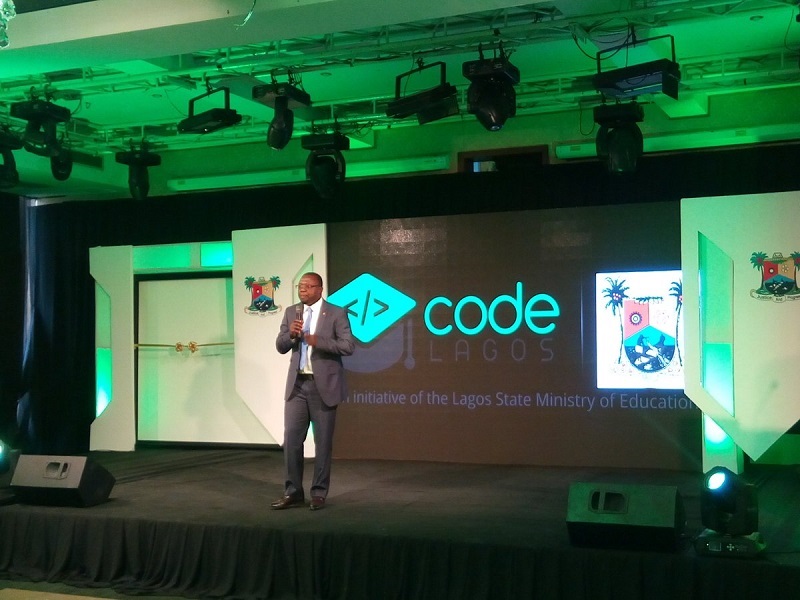 By Dipo Olowookere
The Lagos State announced the opening of 'CodeLagos' and 'Eko Nke Koo' centre at the Isolo Public Library.
Governor Akinwunmi Ambode made the announcement at the official commissioning of the newly renovated Library by Zenith Bank Plc under the Project 350 (Adopt a Library) initiative of the State Government, which is a long-term strategy to ensure Lagos State Libraries were equipped with facilities of the 21st Century through a partnership with the Private Sectors.
Mr Ambode, represented by the State Commissioner for Science and Technology, Mr Olufemi Odubiyi, commended the management of Zenith Bank for renovating the Library, saying that "We thank the Management of Zenith Bank for believing in us and supporting our vision for the Project 350 initiative".
He, therefore, implored the people of Isolo and its environs to take advantage of the Library facilities to improve their individual lives and most importantly to ensure that those that are unable to read and write should register at the Eko Nke koo Centre in the Library.
According to him, "Reading is like an umbilical cord that connects the yet unborn baby to its mother for life support. Reading is a crucial factor and vital in man's intellectual development. Let's take this as an opportunity of entrenching reading culture in our society."
The Special Adviser to the Governor on Education, Mr Obafela Bank-Olemoh, said the renovated Library is equipped with internet facilities, adequate books on different subjects, comfortable furniture, air conditioners and stand by KVA generating set.
Mr Bank-Olemoh further announced that the Herbart Macaulay Public Library which is being renovated by the Guaranty Trust Bank will be commissioned in June.
In his remarks, the representative of the Managing Director of Zenith Bank, Mr Usifo Ogbebor, said that the bank was proud to associate with Lagos State Government and support its vision for the state, promising that Zenith Bank will continue to do more to support the Government.
Speaking on behalf of the Isolo Community was Baale Okota, Mr Ayinla Aregbeshola, who gave kudos to the present administration and Zenith Bank for the project.
He emphasised that this kind gesture will forever be appreciated by the Isolo Community and called for more developmental projects to the area and environ.
CBN Gives Interswitch Payments Service Holding Company License
By Aduragbemi Omiyale
A Payments Service Holding Company (PSHC) license has been granted to Interswitch Group by the Central Bank of Nigeria (CBN).
This followed an earlier announcement by the CBN regarding new licensing categories for participants in the Nigerian payments system.
The integrated payments solution provider is among the first to receive this authorisation from the country's apex bank.
According to the regulator, the PSHC regulation requires companies with existing or prospective operations across multiple license categories to set up a PSHC. The activities of each of the PSHC subsidiaries operating within those respective licensing regimes are clearly delineated for clearer accountability, effective risk management and the enablement of better regulatory oversight by the CBN.
A statement from Interswitch, a leading financial technology in Africa, outlines that Interswitch's Group Holding Company retains ownership of the PSHC in Nigeria as well as its other subsidiaries outside of Africa.
The issuance of the PSHC licence coincides with Interswitch's 20th-anniversary commemoration, which has seen the company cement its position as a pioneering and integral enabler that has actively supported the growth and development of fintech and payments progressively across Africa over the last 20 years.
It also serves to reinforce Interswitch's progressive outlook as a frontier-driving company which keeps pushing boundaries to facilitate the creation of new ecosystems that help businesses and individuals scale and thrive, in line with its purpose of inspiring Africa to greatness through innovation, value-creation and excellence.
"Twenty years ago, we placed a bet on the latent potential we saw in the introduction of e-payment channels at the time, particularly ATMs for the delivery of cash just-in-time, and today, we are gratified to see how far the financial technology and payment systems in Nigeria have grown.
"On the back of our receipt of this additional license, we remain strongly committed to a close partnership with the Central Bank of Nigeria to facilitate the delivery of the Payments Vision (2025) and, of course, the National Financial Inclusion Strategy," the founder and Group CEO of Interswitch, Mr Mitchell Elegbe, remarked.
He further reiterates Interswitch's resolute focus on its over-arching mission to continue championing technology solutions that connect and empower individuals, businesses, and communities across the continent.
Mafab Rolls Out 5G Services in Nigeria
By Aduragbemi Omiyale
Another player has joined the 5G network space in Nigeria, and it is Mafab Communications Limited, which won the licence with MTN Nigeria Plc in December 2021.
After it obtained the licence from the Nigerian Communications Commission (NCC) for $273.6 million, it delayed its rollout, while its competitor, MTN, started in August in a few cities.
Business Post reports that Mafab on Tuesday held a ceremony at the International Conference Centre (ICC), Abuja, to commence operations in the country, promising to deepen broadband penetration.
"We are fully committed to bringing the benefits of 5G services to Nigerians and deploying a network that will drive economic development with increased broadband capabilities nationwide.
"I have no doubt that the service will help deliver improvements in the fields of education, business, smart cities and entertainment," the Chairman of Mafab, Mr Mushabu Bashir, said.
It was gathered that Mafab would largely use existing infrastructure from IHS towers and, if need be, ATC Nigeria Wireless Infrastructure Solutions as well for its operations.
Recall that last month, the NCC again auctioned the 3.5GHz spectrum, which was won by Airtel Nigeria, which intends to launch its operations very soon.
It is not certain how much the Mafab 5G network services would cost. When MTN rolled out its 5G services last year, it sold the device for N50,000 and asked interested customers to pre-order the 5G router.
By Modupe Gbadeyanka
To make communication easier and reduce the cost of procuring handsets for multiple SIMs, Airtel Nigeria has introduced an embedded SIM (eSIM).
A statement issued by the leading telecommunications services provider disclosed that the planet-friendly service allows customers to use two numbers without needing two mobile phones.
This digital SIM, according to Airtel Nigeria, also enables customers to access the same functionality as someone using a physical SIM.
It offers several benefits over traditional SIM cards as it is quick and simple to set up online, and it is planet-friendly (plastic-free/zero carbon emission).
The eSIM service is now immediately available on the Airtel network, and customers who wish to switch their current physical SIM cards for eSIMs will need to ensure they have a compatible device (dial*#06#), obtain the required QR code and be guided through a SIM Swap process by an Airtel service personnel.
Airtel says it has developed a simple and flawless process to activate the eSIM service for all its customers, just as it believes that the digital SIM will significantly improve the productivity of Nigerians, helping its stakeholders to achieve personal and professional goals.
The acting chief commercial officer for Airtel Nigeria, Mr Femi Oshinlaja, while commenting on the eSIM, stated that, "Airtel Nigeria is always at the forefront in championing technological advancement and creating innovative platforms and opportunities that will make life better, more exciting, and more enjoyable for all those in our stakeholder value chain.
"With eSIM, we are not only bringing the latest technology to the fingertips of our customers, but we are also focusing on our Sustainability goals of digital inclusion and environmental best practices as no plastic is involved with eSIM.
"It is, therefore, our commitment to continue to create offerings that will expand and deepen our digital footprints in line with our positioning as the network of first choice in Nigeria for everything mobile Internet, digital and home broadband."
Latest News on Business Post