FG Promises IDP Farmers Bigger Market
By Dipo Olowookere
Federal Government has promised to assist the farming community of North East Internally Displaced Persons (IDPs) at the IDPs Beans Market in Auta-Baliffe, Karu, Nasarawa State.
The IDP farmers market is a community of IDPs of about 21 farming clusters in Nasarawa and Kaduna states; producing agricultural goods including beans, maize, millet, groundnuts, soya beans, sesame, and more.
Minister of Agriculture and Rural Development, Mr Audu Ogbeh, during a visit to the IDP camp with the Catholic Archbishop of Abuja, John Cardinal Onaiyekan, said he was impressed with what he saw.
Mr Ogbeh said he embarked on the visit to inspect the farming activities of the IDPs and their markets with a view to identifying areas of need for appropriate government interventions.
He praised the efforts of the IDP farmers and pledged government's support to sustain their livelihoods and their contribution to national food security.
"I am surprised and elated by what we have seen here today. On behalf of Mr President, we are very proud of you.
"We are proud of you because this is not what we normally see at IDP camps. Instead of waiting for someone to bring you food, here you are producing food and making money.
"Here are people who have lost their homes, creating an industry, one of the biggest beans market I have seen in Nigeria. What we have seen here today is an indication of what Nigerians can do even in adversity. We are very proud of them."
"We are going to create a bigger market for you; we will look into the all challenges you are facing here and we see how we can help to enable you continue this business and hopefully, one day return to your homes," he added.
The Minister also used to opportunity to sensitize the IDP farmers and traders on proper and safe storage of their farm produce and on the danger of preserving food with harmful chemicals.
Mr Ogbeh thanked Mr Onaiyekan for his interest in the welfare of the IDPs; and appreciated the Governor of Nasarawa State and the Etsu Karu for accommodating them in their territory.
Some of the challenges highlighted by the IDPs farmers and traders include: agricultural machineries, farm inputs, storage facility, water and sanitation facilities, extension services, and means of farm transportation.
"We are Internally Displaced Persons, displaced from our humble abode in our farming communities in North Eastern Nigeria but we refused to be aggregated in an IDP camp to wait for government and NGOs for support.
"We chose to remain productive and independent and do the little we can to be of value addition to national growth through agricultural productivity and job creation, the market chairman, Mr Sunday Wabba, told the delegation.
FCT Administration Disburses N2.6bn to Area Councils, Others
By Adedapo Adesanya
The Federal Capital Territory Administration (FCTA) has disbursed a total of N2.6 billion to the six Area Councils in the FCT and other stakeholders as their share of statutory allocation for the month of June 2021,
The figure shows that there was a minimal drop in revenue from N2.7 billion disbursed in the month of May to N2.6 billion in the month of June.
This was disclosed by the FCT Minister of State, Mrs Ramatu Tijjani Aliyu, who presided over the 155th Joint Account Allocation Committee (JAAC) meeting.
She appealed to council chairmen and stakeholders to show understanding and make judicious use of the allocation.
The minister explained that the decline in the allocation was a result of the drop in the statutory revenue allocation from the federation account.
Giving a breakdown of the spending, the sum of N773.6 million was made available for distribution to the six area councils, while the sum of N1.9 billion was made available to other stakeholders, bringing the total sum to N2.6 billion.
However, distribution to area councils shows that the Abuja Municipal Area Council (AMAC), received N188.5 million, while Gwagwalada got N177.6 million and Kuje received N108.5 million.
Also, Bwari Area Council received N84.7 million, Abaji got N117.5 million and Kwali received N97.1 million bringing the total sum to N773.6 billion disbursed to the six area councils.
Furthermore, distribution to other stakeholders includes Primary Teachers which gulped N1.6 billion, 15 per cent Pension Funds took N226.5 million, One per cent Training Fund gulped N26.6 million, while 10 per cent Employer Pension Contribution gulped N107.8 million, bringing the total sum to N1.9 billion.
Geodrill Supports Tamale SHS Science Lab Complex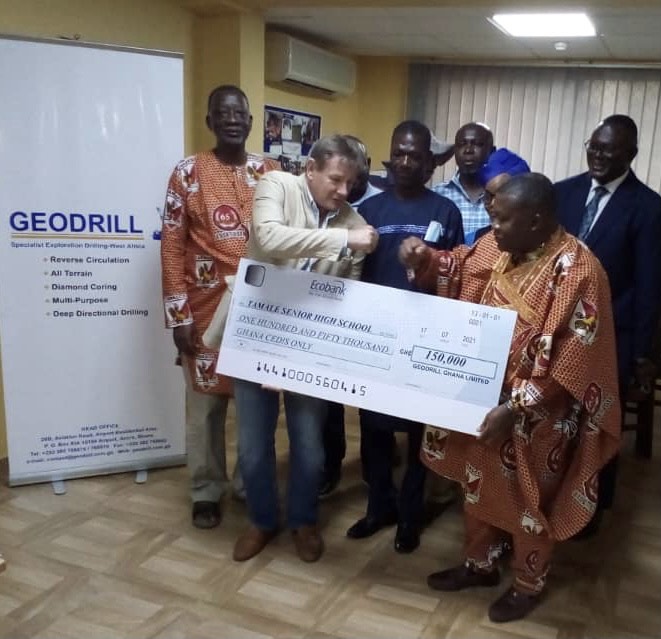 Geodrill Ghana Limited, an exploration drilling go company in the mining sector, has presented a cheque of GH¢150,000 to the OLD TAMASCANS Association (OTA) in Accra.
The amount is Geodrill's contribution towards equipping the Tamale Senior High School Science Laboratory complex to a state-of-the-art facility for use by the current and future students of the school.
Mr Beninett Yaw Quist Awume the Interim Chairman of the Old Tamascans received the cheque from the CEO of Geodrill in the presence of some alumni of the school.
Making the Presentation, the Chief Executive Officer of Geodrill Ghana Limited, Mr Dave Harper, explained that the donation forms part of the Company's Corporate Social Responsibility (CSR) and also as a way of giving back to society.
Mr. Harper revealed that Tamale Senior High School was picked because of the good relationship that he shares with one Dr Ali, a prominent member of Old Tamascans.
The company recently also made a cheque donation of GH¢150,000 to Support the Achimota Senior High School Science Lab Complex.
Mr Dave Harper encouraged other companies to take their Environment, Social and Governance (ESG) obligations seriously and support worthy institutions to fulfil their mission. He expressed hope that science education in Tamale Secondary School, would set the students on the path to successful adult careers so that they can contribute meaningfully to the development of Ghana.
He furthered that Geodrill was committed to being a socially responsible company that actively promotes social causes such as education, training of Ghanaian youth and also to provide support for science laboratories in schools in Ghana.
Receiving the cheque, the Interim Chairman of the OLD Tamale secondary school Association, TAMASCANS, Mr. Beninett Yaw Quist Awume, expressed his profound gratitude to Geodrill Ghana Limited towards helping equip Tamale Senior High School Science Laboratory Complex.
According to him, the donation is very dear to their heart. He promised that they will make good use of the money and make sure that the project gets completed on time. "It will come to completion and we will look back and say Geodrill Ghana Limited has helped Tamale Senior High School to progress," Mr Awume
Mr Awume, also called on other Institutions, Non-governmental Organizations and Civil Society Organizations to emulate Geodrill's example.
"We look forward to receiving more donations from other companies to sustainably fund the provision of science education and other programs for the benefit of our students," he said.
Osinbajo, Jonathan, Others for GbaramatuVoice 6th Anniversary
By Modupe Gabdeyanka
Several top personalities led by the Vice President of Nigeria, Mr Yemi Osinbajo, will be at the 6th anniversary of GbaramatuVoice Newspaper slated for Tuesday, August 10, 2021, by 10:00am, at the Eko Hotels and Suites, Lagos State.
Other important guests expected at the ceremony include former president Goodluck Jonathan, Governor Babajide Sanwo-Olu of Lagos State, Governor Douye Diri of Bayelsa State and Governor Ifeanyi Okowa of Delta State.
A statement issued by the Publisher and CEO of the newspaper, Mr Jacob Abai, stated that other dignitaries for the anniversary lecture/Niger Delta awards include traditional rulers, captains of industries within and outside the country, executives of International Oil Companies (IOCs) operating in the country, public office holders from the Niger Delta region, leaders of specialized groups in Nigeria, among others.
He said the anniversary/lecture has its central theme as Dwindling State of Crude Oil Demand in the Global Market: The Way Forward, noting that it will centre on critical new research themes as sustainable development goals in the Niger Delta. Its deliberations will address all spectra of analyses including the oil and gas industry.
Mr Abai further said the event, the third in the series, comes after similar ones held at Transcorp Hilton, Abuja, the Federal Capital Territory (FCT) and Hotel Presidential, Port Harcourt, Rivers States.
It has a rich history of promoting national unity, recognizing the good works of various individuals that have positively imprinted their names in various areas of endeavours while contributing to the life chances of humanity.
List of eminent Awardees made up of Nigerians and Non-Nigerians drawn from different sectors of human endeavours through rigorous but transparent process shall be made known to the general public in due course.
Latest News on Business Post