Axa Mansard Presently Piloting New Insurance Policy on Malaria—Alli
By Dipo Olowookere
Malaria is a disease that is still giving health experts and governments, especially from Africa, something to worry about.
This is because the disease efforts to eradicate it have not yielded the needed results especially in the third world counties.
Every April 25 is set aside to mark the World Malaria Day and Axa Mansard, which joined others to mark the day, disclosed that it was presently piloting a new insurance scheme focusing on the disease.
Speaking in an interview, the Group Head of Medical Services at AXA Mansard, Dr Tokunbo Alli, said Malaria continues to contribute to childhood and adulthood morbidity and mortality in Africa, and under-5 children and pregnant women are worst hit.
He said the company will continue to make efforts to support the campaign to eradicate the disease in the country.
What is your team's connection with this year's global theme for World Malaria Day, 'Ready to Beat Malaria?'
Malaria continues to contribute to childhood and adulthood morbidity and mortality in Africa, and under-5 children and pregnant women are worst hit. As a responsive and responsible organization, a strategic part of our cover for thousands of our clients includes easy access to qualitative diagnostics and treatment against malaria in through our numerous and dependable healthcare providers across the country, the continent and indeed worldwide.
Through various channels also, AXA Mansard significantly contributes to initiatives that are aimed at strengthening the preventive measures against Malaria in Africa. We are presently piloting a new insurance policy focusing on malaria alone and we will be sponsoring about 10,000 lives with free Malaria Insurance.
What inspired your team to join efforts to eradicate malaria?
The impact of the business of healthcare is not streamlined to the conundrum of diseases management. As a matter of fact, our team understands that by creating a formidable platform for preventing and properly managing disease conditions, the socioeconomic might of the average Nigerian citizen is buoyed. This is simply because we are able to help clients spend less of unproductive hours or days on the sick bed as a result of malaria, and consequently, improve their productive hours to help achieve socio economic power for themselves and their families.
The total eradication on Malaria would have an extremely positive effect on the entire economy which would translate to higher GDP numbers for Nigeria. Also, with the increase in prevalence of non-communicable diseases like hypertension and diabetes, we would have too many issues to deal with if we do not increase our efforts to eradicate malaria.
What should be done in preventing and treating malaria?
All hands must be on deck to salvage the situation that malaria has put us in Africa. Prevention entails keeping clean environments by clearing bushes and drainages in and around homes, use of anti-mosquito agents, sleeping under Long-lasting Insecticidal Nets (LLINs), routine aerial sprays of our environment with chemicals that destroy the larvae of mosquitoes etc. in the near future, we also expect a breakthrough by scientists in the production of vaccines against malaria.
Treatment on the other hand entails that qualitative anti-malarial drugs are manufactured within and outside the continent and made available at affordable rates to end-users. The diagnostic capacity of both private and public health institutions also need to be strengthened to ensure the prompt & appropriate diagnosis of malaria and differentiation from other fever-causing diseases.
How does health insurance help curb the high mortality rate of this disease?
If health insurance schemes are initiated across board to ensure universal access to healthcare, the prompt and unfettered access to qualitative diagnosis and treatment of malaria shall be taken for granted in Africa. The pool of funds which health insurance provides can stimulate a catalytic process that will drastically curb morbidity and mortality arising from malaria. Health insurance guarantees unhindered access to qualitative healthcare services. AXA Mansard Health is poised to delivery best in class health insurance products and services that would help the nation help curb the high mortality and morbidity rate caused by Malaria.
Tell us about the AXA Mansard's health insurance solution for the retail market called EasyCare?
AXA Mansard Easy Care health insurance plan helps Nigerians access affordable and quality health care. With new Easy Care health insurance plan, subscriber can with as low as N12,000, premium access various health care services which include, In and Out Patient Care, General and Specialist Consultation; X-Rays; Laboratory & Diagnostic Tests. Other health care benefits accessible to subscribers on the plan are NPI Immunizations; Prescribed Medicines & Drugs; Accidents & Emergencies; Dental care; Evacuation of patients to the hospital; HIV/AIDS – to the Extent of Diagnosis and Treatment at Free Specialist Centres nationwide.
There have been a number of advocates including Vice President, Professor Osinbanjo on the importance of compulsory health insurance scheme to improve access to health care for Nigerians, what are your thoughts on health insurance for all?
The Vice President's advocacy is a step in the right direction. Health insurance for all is feasible if all stakeholders are committed to drive the process.
On our part, we shall continue to advocate for compulsory health insurance for all men, women and children in Nigeria because it provides risk-protection and universal health coverage for all. No one knows when he/she will be ill or the amount of money that may be required to treat the next illness.
How has the acceptance of health insurance evolved in the past, and what is its future outlook in Nigeria?
Statistics put the coverage of the National Health Insurance Scheme (NHIS) in Nigeria at less than 7 percent. The gap yet uncovered is enormous, the opportunities massive. Be that as it may, anecdotal figures corroborate the impression that acceptance of health insurance seems to be on the rise in Nigeria. In cities such as Lagos, Abuja, Port-Harcourt and a host of others, many private health insurance plans have been instituted, such that Health Maintenance Organizations (HMOs) are being established. A lot of private sector organizations are purchasing health insurance plans for their workers from one HMO or the other. AXA Mansard for instance is the fastest growing health insurance company in Nigeria with a compounded annual growth rate of over 500 percent from inception in September 2013 till date. It is therefore safe to say acceptance is on the rise. Honestly, the future outlook of health insurance is astonishingly bright and Federal and State governments can help to boost same by formulating and implementing policies of Universal health coverage around health insurance.
Some advocates of health insurance argue that it is a means of risk management and finance protection, can you explain that further?
In most countries of the world today, including Nigeria, expense on healthcare is the single largest cause of bankruptcy for individuals and families. No one is aware of the type or period of his/her next illness, even though we all pray not to fall sick. Insurance generally offers you a cover, some sort of protection, against unforeseen events, ditto health insurance. A pool of funds is made available by health insurance in a manner that allows all enrolees to be protected financially within that pool against out-of-pocket payments for any illness that may arise. Health insurance also does risk protection by breaking down the barrier of access, such that so long as you are insured, you shall eat the good of the qualitative healthcare lamb should the need arise.
What are your recommendations on ways to improve access to quality health services for people and communities, in line with 2018 World Health Day theme, 'universal health coverage: everyone, everywhere'?
As a big player in the health insurance sector, our recommendation is for sub-national and national governments, as well as privately-run organizations, to enact and execute policies of health insurance as an instrument for universal health coverage for all their citizens and/or employees as the case may be. It is the surest way to get everyone on the path to universal health coverage.
COVID-19: Nigeria to Start Vaccination of Children
By Ashemiriogwa Emmanuel
In a few months' time, Nigeria will commence administering vaccines to children under 12 years to protect them against the coronavirus (COVID-19).
This vaccination of children against the virus would be done in partnership with the United Nations Children's Fund (UNICEF).
The UNICEF Health Specialist and Officer in charge of Enugu Field Office, Mr Olusoji Akinleye, said during a recent media executive meeting in the state that it had taken so long for this to be implemented because of the cluttered processes involved before any drug would be administered to children.
Speaking at the event, which was in collaboration with Broadcasting Corporation of Abia State (BCA), Umuahia, on Child Rights-influenced Reporting on COVID-19, the specialist said that a lot of children had died due to the COVID-19, adding that, "In the next few months, Nigeria will start administering the vaccine on children under 12 years of age."
He said, "We recognize the partnership in promoting and highlighting the right of every child to life. The very first right that every human being is supposed to have is the right to life; we recognise that the media have always supported the effort of government and partners, including UNICEF, in promoting the right to health."
Noting the challenges faced by the health sector regarding public hesitancy, unwillingness, and misconceptions against the COVID-19 vaccines, Mr Akinleye encouraged parents to ensure that their children were protected by obeying the safety protocols that have been put in place.
In addition to this, he said, "UNICEF looks forward to more robust collaboration with the media and an expected upward trend in the promotion of health and hygiene practices by the media in Nigeria by daily communication to the public of protocols enforced by the government to prevent the spread of COVID-19."
Lagos to Host Conference on Biosecurity, One Health
By Sodeinde Temidayo David
The Lagos State Government has announced the plan to hold the seventh Annual African Conference on One Health and Biosecurity as part of efforts to ensure that the Africa continent braces up for the challenges posed by emerging infectious diseases and biosecurity threats.
The conference is in partnership with Global Emerging Pathogens Treatment Consortium (GET) and is scheduled to hold both virtually and physically at the Civic Centre at Lagos from Wednesday, October 27 to Friday, October 29, 2021, with the theme Universal Approach to Addressing Biosecurity Threats – Genomic Intelligence and Vaccines.
Interested participants have been advised to visit the GET website to register and attend the hybrid conference.
According to the state Commissioner for Health, Mr Akin Abayomi, the conference is seventh in the series of conferences organised by GET, in partnership with governments around West Africa and the African continent, to help develop a biosecurity road map and to increase resilience in dealing with pathogens of high consequence.
Mr Abayomi expressed the need to continually focus on the key importance of the African response in combating emerging infectious diseases.
He stated that the need for various treatment strategies and preparedness against future biosecurity threats necessitated the need for the conference.
"Lagos has teamed up once again this year with GET to organise the seventh African Conference on One Health and Biosecurity. We have a very important thematic initiative this year to address the universal approach to biosecurity threats using genomic intelligence and vaccine," the commissioner noted.
He further explained that genomic intelligence is the ability to sequence a pathogen that is causing an outbreak, adding that COVID-19 is the focus of attention for the conference.
As stated by him, genomic intelligence should be vigorous, with significant measures taken to mitigate the potency of current and future epidemics as well as keeping up with effective vaccine production.
Mr Abayomi further explained that the conference's thematic areas cover Vaccine Strategy, Genome Research, Emerging Infectious Diseases, Biosecurity and Bio-threat, Biobanking Infrastructure, Climate change and Cultural Anthropological Social and Economic Impact of Emerging Infectious Diseases.
He also advocated various treatment strategies and preparedness against future biosecurity threats as he stated the key importance of the African response in combating Emerging Infectious Diseases,
He stated that Lagos is prepared to welcome participants, policymakers, researchers, scientists and other interested persons to the conference, adding that the concept of One Health is necessary for ensuring biosecurity and all-around health.
In his remarks, the Chief Operating Officer of GET Consortium, Mr Ayodotun Bobadoye, noted that participants at the conference will include policymakers, scientists, researchers, healthcare professionals, experts in infectious disease management, professionals from one health field, development partners, community and opinion leaders amongst others from within and outside the continent.
Mr Bobadoye further noted that resolutions at the conference will help chart a positive course for strategic response against Biosecurity threats in Africa and by extension the world.
NCS Honours LASUTH for Excellence in Cardiovascular Care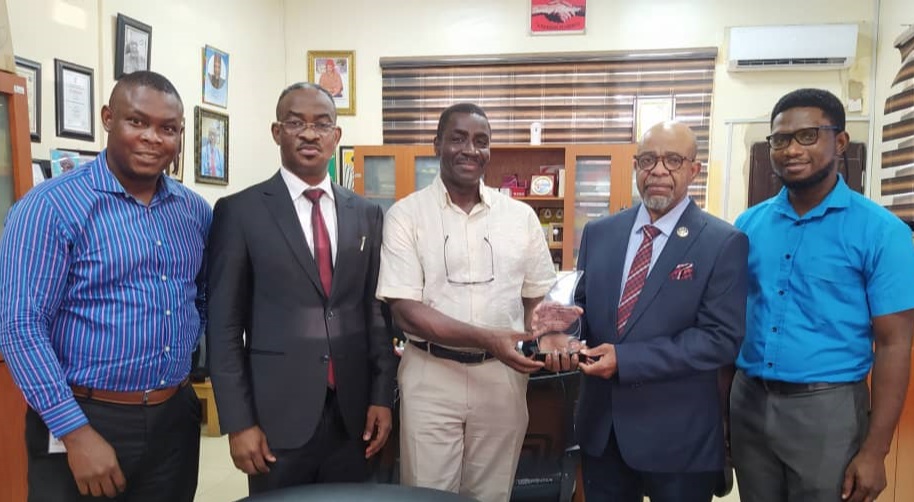 By Modupe Gbadeyanka
The Lagos State University Teaching Hospital (LASUTH) has been announced as the winner of the Excellence in Cardiovascular Care Award.
This award was given to LAUSTH on the premises the hospital is renowned for its contribution to the growth and development of cardiovascular medicine and surgery in the country.
The respected health institution grabbed this award at the 50th Annual General Meeting (AGM) and Scientific Conference of the Nigeria Cardiac Society (NCS) held in Lagos recently.
LASUTH is one of the two tertiary hospitals carrying out open-heart surgery in Nigeria. It has continued to make giant strides in improving the lives of the citizens of Lagos State and its environs.
The soon to be quaternary hospital has over the years provided high-quality healthcare to Lagosians using state-of-the-art equipment and cutting-edge technology to solve common and emerging health problems.
LASUTH heart surgeons have performed some of the most advanced procedures in the medical field. The hospital has experienced professionals who specialize in open-heart surgeries that effectively treat heart conditions while minimizing patients' recovery time and maximizing the best possible outcomes.
This made the NCS during the recently concluded Scientific Conference honour the hospital for her feats and outstanding achievement in tackling cardiovascular diseases through a consistent open-heart surgery with great success.
It was learned that these surgical feats would not have been possible without the expertise of the medical professionals at the LASUTH Cardio-Thoracic Surgery Unit (CTSU) led by Dr Bode Falase, a cardiac surgeon and ably supported by the management of the hospital, under the leadership of the Chief Medical Director, Prof. Adetokunbo Fabamwo.
In a few weeks, LASUTH will be the only government-owned hospital with a cardiac catheterization laboratory (Cathlab). This is a laboratory with special imaging equipment used for the visualization of the arteries and checking blood flow to and from the heart.
LASUTH said one of the advantages of using its facility for cardiovascular issues is that patients would be exceptionally cared for at a reduced cost while also reducing medical tourism.
Latest News on Business Post