Goldberg to Empower Yoruba Youths With 'Isedowo'
By Dipo Olowookere
Goldberg, a brand from the stable of Nigerian Breweries Plc, is set to unveil an empowerment scheme tagged Isedowo in the South-western part of Nigeria on Thursday, August 31, 2017.
Isedowo, which is designed to equip young Yoruba men and women with the support to grow their businesses, will be unveiled at the palace of the revered monarch, the Ooni of Ife, Oba Adeyeye Enitan Ogunwusi Ojaja II.
Portfolio Manager, Mainstream Lager and Stout Brands, Nigerian Breweries Plc, Mr Emmanuel Agu, said that in addition to Goldberg's commitment to culture and the tradition of the Yoruba people, it would use Isedowo to inspire entrepreneurship in the region thus impacting employment and income generation.
"Through Isedowo, Goldberg will extend its links with the people of the Southwest beyond culture and tradition to the entrepreneurial passion of the people," he said.
Commenting on the modalities for the scheme, Mr Agu said that interested participants would be required to showcase their business ideas and how it impacts the society in order to benefit from the empowerment scheme.
Participants will go through a screening and selection process across the Southwest after which the top 100 participants will be rewarded with a grant of N300, 000 each to be invested in growing their business.
Goldberg is known across the Southwest as a leading supporter of culture and tradition, and through Isedowo, it will help the youth to achieve their business and entrepreneurial potential.
Nigerian Music Has Spiralled Out of Control—Yemi Alade
By Dipo Olowookere
The music scene in Nigeria is unarguably one of the biggest in Africa. In fact, it is like what the American music industry is to the world and the key stakeholders are loving the attention.
A popular female artiste, Yemi Alade, attested to this when she told CNN International in the latest episode of Africa Avant-Garde that, "The music industry in Nigeria is ever-growing, it is huge. The music has spiralled out of control. It's international, the entire world is into it, the spotlight is on Africa and we're loving it."
Unfortunately, the outside world sees the sounds from Nigeria as purely Afrobeats, which some people like Yemi Alade, who gained limelight after she won the maiden edition of a now-rested Peak Talent Hunt in 2009, said was worrying.
"I like to call my genre of music Afropolitan. For me it's a mix of highlife, Afrobeats, R'n'B and pop," she stated.
"I'm not an Afrobeats artist, my own genre of music is Afro House. Afro House is a fusion of African music, there's the African influence in terms of the beat, and my vocals – I love to sing in Yoruba language," another female singer and songwriter, Niniola, said.
Afrobeats is the sounds produced from West African and was made very popular by late music legend, Fela Anikulapo-Kuti and music executives, Kenny Keke Ogungbe and Dayo D1 Adeneye, who started Kennis Music, one of Nigeria's best-known music labels, in the late 1990s, cautioned that not everything should be grouped under the Afrobeats label,
"I hope as we keep moving, the world will learn to recognise that everything that comes out of Nigeria is not Afrobeats," the submitted.
As for Mr Obi Asika, the founder of Yam Carnival, a festival in London, England celebrating Black music, culture, and food, he is hopeful that African music will continue to grow in popularity internationally.
However, he cautioned that the genre shouldn't lose its African roots, "I hope that it keeps its foundations strong, and I hope that African people remain stakeholders in it – that it's not just gobbled up by the industry, because then it will last forever."
A renowned music producer and founder of Mavin Global, Don Jazzy, said streaming is increasing the popularity of African music globally.
Over 4,000 Jostle to Make Nigerian Idol Season 7 Top 500 Contestants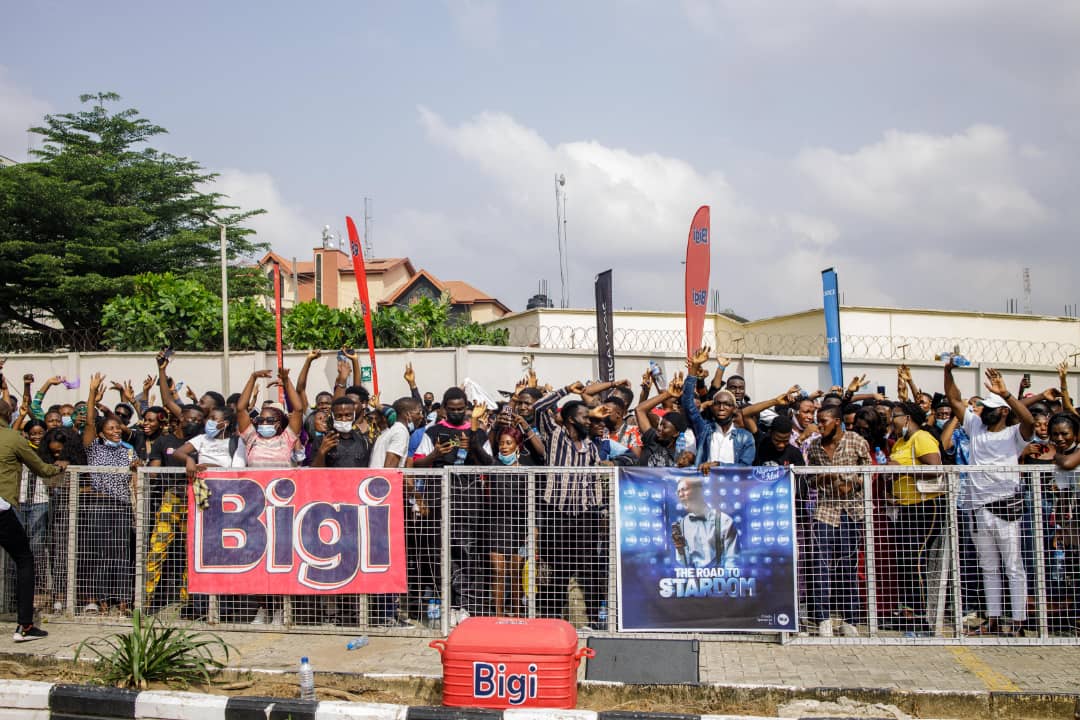 By Modupe Gbadeyanka
Over the weekend, more than 4,000 talented singers were at the Colossus Hotel, Ikeja, Lagos, to audition for the Nigerian Idol season 7 music reality show and become to latest music celebrity like the season 6 winner, Kingdom.
The budding music acts were there to fight for a spot in the top 500 contestants who will emerge from the live audition to the next stages.
The 500 contestants would be judged again and pruned down to 250 contestants. Only 50 contestants will proceed to theatre week out of the 250 contestants, and the 50 contestants will be judged based on their creativity, strength of voice and stage performances.
Out of the 50 contestants from theatre week, only 10 contestants will emerge for the live performances. Fans and lovers of the show are to catch up on the audition and selection stages on DStv and GOtv in February 2022.
The Nigerian Idol season 7, sponsored by Bigi drinks, will come to an exhilarating climax on Sunday, May 22, 2022, with over N50 million worth of prizes awaiting the winner.
At the audition last week, talented young up-and-coming artists were refreshed by Bigi, produced by Rite Foods Limited. They applauded the company for the refreshment.
Speaking on the turnout, the Brand Manager, Beverage and Bakery, Rite Foods Limited, Ms Boluwatife Adedugbe, described it as impressive and commended all contestants for their confidence to embark on the musical journey to stardom with Bigi.
According to her, "we are elated to witness a day like this where thousands of talented singers are prepared for a refreshing journey to stardom.
"The Bigi brand will ensure that whatever flavour that resonates with the contestants' singing abilities, the brand is always there to give refreshing confidence for their performances as they journey through the singing competition."
Ms Adedugbe further emphasised her company's commitment to espousing talent discovery in music through platforms like the Nigerian Idol for young talented singers to find expression and become megastars.
YouTube Releases Top 10 Nigerian Creators, Music Videos for 2021
By Dipo Olowookere
The world's most popular online video community, YouTube, has released the top 10 Nigerian creators, who trended and had the biggest moments on the platform in 2021 in the country.
The list, according to a statement from YouTube, is to celebrate the content creators and reflects the growing popularity of original content produced by Nigerian creators on the platform with HouseOfAjebo, official Broda Shaggi, ApataTV+, Bakori TV, Lightweight Entertainment and Mr Macaroni all dominating this category.
It was further stated that this year's creators' list consists of channels that share hilarious skits and movies.
HouseOfAjebo, the channel that topped the list, shares funny cartoon skits and is managed by popular stand-up comedian, Erem Emeka Nehemiah, also known as Ajebo.
Samuel Animashaun Perry, a Nigerian comedian, actor, songwriter and musician who also owns the channel official Broda Shaggi is another top creator on YouTube in Nigeria this year.
In addition, the platform released the top 10 music videos in Nigeria on YouTube, with Chiké and Simi's Running to you, Teni's For You featuring Davido, and WizKid's Essence featuring Tems, leading the list of most viewed music videos by Nigerians in 2021 on YouTube.
The statement explained that the selection of the top trending videos on YouTube for 2021 was based on a range of factors, beyond just viewership.
YouTube said, for example, it considered engagement while also looking at signals like shares and likes.
It stated that topping the list of top trending videos in Nigeria was President Kuti, a movie starring Ibrahim Yekini, Bimpe Oyebade and Odunlade Adekola on Yorubaplus.
The comedy skit video, Tetracycline and Septrin from HouseOfAjebo ranked second in the country, while Yoruba movies, Abebi, starring Odunlade Adekola, and Ete, starring Bolanle Ninalowo were also among the trending videos that got Nigerians clicking "play".
Below is the full list of the different categories;
Top 10 Creators in Nigeria
Top 10 Music Videos in Nigeria
Top 10 Trending Videos in Nigeria
Latest News on Business Post